Why Lazy Affiliate Marketers Succeed
In Marketing Generator Software Products
Discover The Truth Behind One Of The
Most Successful Affiliate Programs Online Today
Dear Affiliate Marketer,
Let's get right to the point...
If you are marketing products online as an affiliate then the sad reality is you've probably been working too hard.
The odds are, you've probably cut your teeth trying to figure out what programs and promotions will bring you the best return for all your time, energy and effort.
Some affiliate programs claim to have great products but after sinking some of your hard earned money into some advertising, you find out the harsh reality.
Their conversion rates are terrible...
Their product support is horrendous (which leads to refunds)...
...AND...
You're always having to do all the hard work of coming up with new promotions and materials in order to generate interest.
It's tiring and frustrating isn't it?
An Affiliate Program "Criteria" That
Will Virtually Guarantee Your Sales Success
As an affiliate marketer, there are 5 main ways to evaluate an affiliate program:
1) The Company Must Have An Established Track Record

You want to make sure that the company running the affiliate program has been around for a while. Otherwise, you could run into potential problems with this startup falling flat on it's face and all your affiliate links and hard work instantly becoming obsolete.

In addition, look for a history of consistent product sales as well as regular affiliate payouts.

The more consistent the product sales and affiliate payouts the better. It shows that the products are selling over the long-haul instead of only during some quick "product launch".


The Generator Software Difference

Armand Morin and his company Generator Software have been successfully selling products online for over 11 years and are considered one of the world's leading experts when it comes to internet marketing.

With over 15 products available (and more being added every year), Generator Software has quickly become the most recognized brand for online tools and programs.

Affiliates have been enjoying regular monthly commissions for many years and with some product conversion rates consistently hovering between 7%-11% it's no wonder more and more affiliates are jumping on board every day.

2) The Company Must Deliver High Quality Products

Always look for products that provide value and serve the customer. If you don't, you can expect to lose affiliate commissions very quickly thanks in large part to one word... refunds.

Refunds can be a deadly killer for an affiliate marketer because there is nothing you can do to save the sale even though you did all the hard work to bring them a paying customer.

Promoting high quality products will help you eliminate a lot of headaches because you won't have to worry about any backlash (and lost sales) from people purchasing through your affiliate link.

Being proud and confident in what you are promoting is important so always look for high quality products that provide value and satisfy customer needs.


The Generator Software Difference

Here's an interesting fact about Generator Software customers...

When a first time customer purchases a Generator Software product, they will typically purchase 3 more within the following 4 months. If the products were not of such a high standard, this would never happen.

The "Generator" line of products have a reputation for being easy to use while producing effective outcomes.

This helps to explain why products that were created 5-7 years ago continue to sell extremely well today - that means your affiliate promotions have "staying power" because these products never get "old".

3) The Company Must Have Customer and Affiliate Support

Support is crucial for the longevity of a business. Unfortunately it's one of the first areas that gets neglected by most business owners.

That leads to customer frustration which leads to refunds (we spoke earlier about the effects of refunds on your affiliate business).

The bottom line is this - make sure the company you are promoting has some kind of customer support in place.

In addition, you want to make sure that as an affiliate, you can get all your questions answered. If not, how can you effectively promote any of their products?

Some key factors that will demonstrate the quality of their affiliate support are things like whether they have a full-time affiliate manager, an affiliate center, a support ticket system etc.


The Generator Software Difference

With full-time customer support personnel as well as a full-time affiliate manager, Generator Software customers and affiliates have unparalleled product and program support.

This support allows Generator Software to have one of the lowest refund rates in the business which ensures maximum profits for all affiliates.


4) The Company Must Have Regular Affiliate Trainings

Training is essential in sales and it's no different with an affiliate program.

If the program you are promoting does not provide you regular affiliate trainings then a red flag should go off. Here's why...

Consistent communication between the company and it's affiliates has proven to be one of the biggest factors in overall affiliate sales.

It sounds obvious but wouldn't you want the company to inform you of the most effective methods of selling their products? After all, it's in their best interest to equip you with the most up-to-date information on what's working in order to help you maximize your sales.

Unfortunately with an overwhelming majority of affiliate programs out there, regular communication is the number one element that is missing.

So here a few examples of what to look for:
- regular email updates
- regular teleseminar trainings
- regular affiliate newsletter or ezine publication

The key is, the training must be regular and consistent. Otherwise it indicates that the product owner doesn't really care about their affiliates and that's obviously someone you don't want to help.


The Generator Software Difference

The Generator Software team will provide you regular tips, tricks and strategies through exclusive email updates, teleseminars, webinars and video trainings.

In addition, there is always a continuous flow of new and exciting promotions being created for you each and every month. You'll never have to worry about "coming up" with anything yourself because all the hard work is done for you.

Finally, the new affiliate blog is used as the primary communication vehicle for up-to-the minute news, insights and reports on upcoming events, product launches and sales strategies. - Why wait any longer?

- Register now for the Generator Software Affiliate Program. -

5) The Affiliate Promotions Must Seem Effortless and Easy

This is by far the easiest way to separate the world class affiliate programs from all the "average" affiliate programs online today.

Unfortunately most product owners are lazy and if you're lucky, they create one set of marketing materials for you to use in order to promote their products.

But here's the problem...

How often are you going to send the exact same email promotion to your list?

Never!

So that means it will require some effort on your part if you want to promote that product a second time because you'll have to rewrite the original email template or design something totally new.

Look for an affiliate program that not only has standard tools and materials like email templates, banners and ezine ads but they also provide fresh content or promotions each and every month.

That means you do WAY less work and your promotions are always up-to-date, fresh and appealing.

In addition you want to make sure that these promotions are already populated with your affiliate ID otherwise you'll have to copy this, edit that, switch this ID in there and on and on it goes. It can get confusing and there's a much higher chance of error resulting in lost sales.

Make it easy on yourself and find an affiliate program that does all the work for you. It will save you time, energy and effort and allow you to focus on what you do best.


The Generator Software Difference

One of the advantages of becoming a Generator Software affiliate is the ongoing flow of new products and promotions.

In addition, there are new promotions being added to the affiliate center every month for a variety of the best-selling Generator Software products.

This combination provides affiliates a variety of "time sensitive" promotions which help create a quick serge of sales as well as "evergreen" promotions which last the test of time.

As a Generator Software affiliate, you have the ability to decide what you'd like use, when you'd like to use it and how often you'd like to promote.

In addition, the Generator Software affiliate program has been developed to allow affiliates the easiest method of promotion possible. All tools and promotions are automatically populated with your affiliate link making getting started as simple as one copy and paste.
At Last... An Affiliate Program That
Rewards It's Affiliates For Doing Less Work
Chances are, you're probably thinking the statement above is too good to be true.
However, here's what we mean...
The focus of the Generator Software affiliate program is to equip you with the right kind of tools and promotional materials to maximize your sales.
That's why we have developed arguably the most complete affiliate center on the web including training, plenty of fresh promotions as well as all your standard affiliate tools.
Once you register, you'll be able to instantly access this affiliate center and get started with your promotions. Here's a quick look at what you'll find: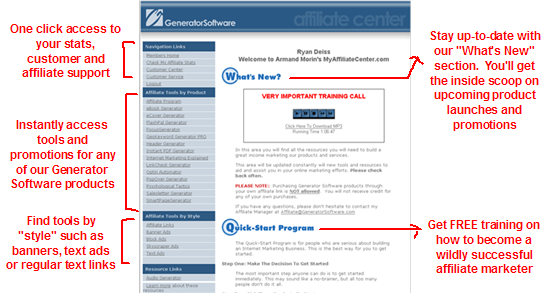 Not only that, but the Generator Software affiliate program takes it one step further by automatically populating your promotions with your affiliate links: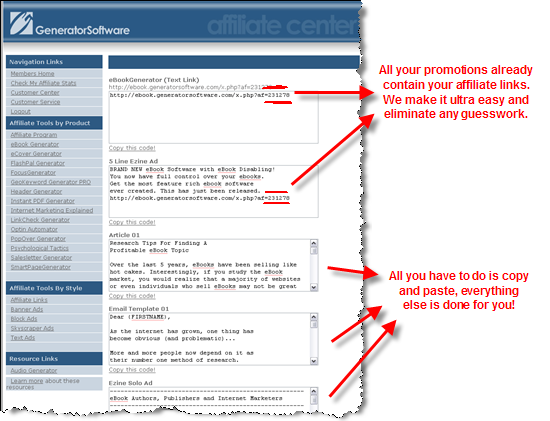 Plus, we've recently added one of the most sophisticated affiliate tracking tools giving you the ability to instantly see what promotions are working the best for your list. Now, there's no need for third party tracking tools because you have everything at your finger tips.
Let's take a look: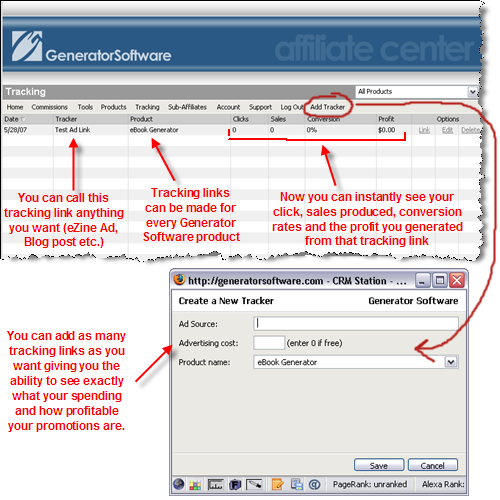 As you can see, we put a lot of effort into saving you time, energy and money so that when you are promoting Generator Software products you're maximizing your affiliate sales.
With so many reasons to join the Generator Software affiliate program, here's one more that will get you very exicted...
Get Paid Automatically On Sales Generated By
Other People... With Zero Extra Effort
One of the attractive benefits of the Generator Software affiliate program is the fact that it's a two-tier program.
That means if you refer other people to the Generator Software affiliate program, you'll get paid on any sales that they make.
Here's a few examples of how this works:
| | | | |
| --- | --- | --- | --- |
| Product | Product Price | 1st Tier Commissions (35%) | 2nd Tier Commissions (10%) |
| eBook Generator | $97 | $33.95 | $9.70 |
| eCover Generator | $97 | $33.95 | $9.70 |
| Salesletter Generator | $97 | $33.95 | $9.70 |
| GeoKeywords Generator | $147 | $51.45 | $14.70 |
| Internet Marketing Explained | $1997 | $800.00 | $200.00 |
Looking at the chart above you can see that without any extra work, you'll be earning second tier commissions on every sale of any affiliates you refer to this program.
These commissions come in automatically and many of the Generator Software top affiliates went out and found a few key people, referred them to this affiliate program and now sit back and enjoy residual commissions every month.
An Open Invitation To All Affiliates Looking
For An Established Company Paying
Attractive Commissions Backed By World
Class Products and Unparalleled Support
Less work.
Fewer headaches.
More profits.
Now is your chance to join the premiere affiliate program on the web and enjoy the luxury of being backed by a company with a world-class reputation, best-selling products and top notch service.
Simply fill in your information below and let's get started!